By Charles Hyman, MS4, Warren Alpert Medical School of Brown University
When I started medical school in 2012, there was an outward consensus among the senior medical students at my school that radiology was a dying field. They warned against pursing the specialty with the job market as grim as it was.  Students were spooked by stories of fellows forced to take on additional fellowships because they could not find jobs, rumblings of replacement by artificial intelligence, and the omnipresent outsourcing boogeyman.
Their fears, while the justifications were debatable, were reflective of the medical student sentiment nationally as shown by the residency match data. The period of 2011-2015 saw radiology go through an unprecedented decline in medical student interest and applications. Per the National Resident Matching Program (NRMP), radiology had steadily ranked among the most competitive fields and peaked in 2009 before crashing shortly after. However, in 2016 it appeared radiology had begun to recover to its historical levels.
The difficulty in obtaining a position in a radiology residency peaked in 2001 when there were 0.91 positions offered per US senior applicant. In 2009 interest among students reached its highest with the nearly 7% of all US students applying for radiology positions. At that time, 87% of positions were filled by US seniors- a mark which only otolaryngology, orthopedic surgery and neurological surgery ranked higher.
Around this time, changes in the health insurance landscape as well as the economy in general resulted in stagnation of the growth in imaging quantity, bundling of payments, and an oversaturation in the labor force. Medical students began to shy away from the field and the competitiveness began to steadily decline. The percent of positions filled by US seniors precipitously fell year-after-year reaching its lowest point of 58% in 2015. Overall, the number of unfilled spots ballooned from 6 in 2010 to 150 positions in 2015 which over doubled the amount from just a year before.
Fears of a "brain drain" lead to "calls for action" by academic leaders about the need for a drastic reduction in training positions to combat oversaturation and improve the future job market to attract the highest achieving students. The Society of Charis of Academic Radiology Departments even explored strategies to engage and recruit medical students and published a survey of strategies in 2016.
Surprisingly, the steady decline halted abruptly in 2016 match where number of unfilled spots fell drastically from 150 to only 16 positions. The percentage of US seniors rebounded to almost 70% though still not reaching its historical highs. This rebound continued into the most recent 2017 match in which only 7 spots went unfilled and the percent of US seniors remained steady at 71%.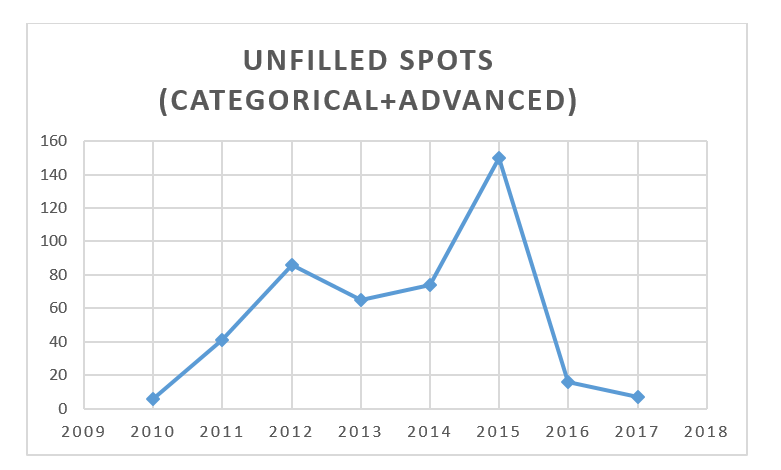 It remains a question what is driving this drastic change in trajectory. The core concerns of the future job market in the face of oversaturation, outsourcing, and artificial intelligence have only become more present. A change of that magnitude cannot likely be attributed to the relatively small efforts by academic departments in getting involved earlier in medical student curriculum. However, the massive increase in medical student interest interventional radiology and the formation of the independent interventional radiology residency can explain a large extent of this rapid shift in momentum.
The increased interest in interventional radiology in general has been reflected in the increasingly competitive IR fellowship match. However, the massive surge in interest in among medical students is harder to quantify. While the exact data is not readily available, medical student registration to SIR and application to various student grants and opportunities have reportedly grown exponentially over the last few years. Medical student-specific conferences and interest groups have proliferated nationwide.
With the first match of the independent IR residency, we now have some data representing the impact of this increased interest on the overall bounce back in diagnostic radiology applications.
The first and most easy to separate is the amount of positions that were switched from the DR pool into the IR match. In the past, the number of residency positions had been increasing a small amount each cycle until a small reduction of 13 spots in 2015. In 2015, the worst match in recent history, there were a total of 1145 DR positions compared to 2017 when the amount was reduced to 1053 with many of those spots getting converted to programs' independent IR residencies. It is not known how many the of the 124 IR residency positions offered were newly created, but most were likely converted from existing DR positions. The decrease in DR positions alone can account for the rebound in DR competitiveness.
More interestingly, and perhaps why this affect could have also been seen in the 2016 match when there were only 14 IR spots but still much stronger match than in 2015, is the flood of applicants into DR that followed the interest in IR. In the 2017 match, IR had a staggering 0.7 positions per US senior which made it the most competitive major specialty. Of the total 281 US Seniors who applied to IR only four students only ranked IR programs without ranking any other specialties, 176 ranked at least one IR program before ranking any other specialty, and 101 ranked at least one program in another specialty before any IR programs.


While some of these applicants might have interest in related fields like vascular surgery, it is safe to assume a very large percentage of these applicants ranked DR programs over IR programs. Based off this data, it is likely the case that a good number of the 157 students who did not match into IR went into DR residencies. Granted some of these applicants might have been much more interested in DR and applied to IR as a hedge to save a year if their interests change, but it is clear that the increased interest in IR has a major role in the apparent rebound in DR competitiveness. This highlights the importance of continued efforts for medical student outreach by DR departments as well as the mutual benefits of retaining the traditional fellowship/ESIR route in recruiting quality medical students for both IR and DR.
References:
Chen JY, Heller MT. How competitive is the match for radiology residency? Present view and historical perspective. J Am Coll Radiol. 2014 May;11(5):501-6. doi: 10.1016/j.jacr.2013.11.011. PubMed PMID: 24793041.
Francavilla ML, Arleo EK, Bluth EI, Straus CM, Reddy S, Recht MP. Surveying Academic Radiology Department Chairs Regarding New and Effective Strategies for Medical Student Recruitment. AJR Am J Roentgenol. 2016 Dec;207(6):1171-1175. Epub 2016 Sep 22. PubMed PMID: 27656955.
National Resident Matching Program, Results and Data: 2017 Main Residency Match®. National Resident Matching Program, Washington, DC. 2017
Pfeifer CM, Bourm KS. Diagnostic Radiology Continues to Attract Talented Applicants. J Am Coll Radiol. 2017 Apr;14(4):545-546. doi: 10.1016/j.jacr.2016.11.003. Epub 2017 Jan 23. PubMed PMID: 28126533.
Segovis CM, Jha S, Lall N. Radiology Residency Spots Should Be Drastically and Immediately Reduced. J Am Coll Radiol. 2015 Nov;12(11):1131-3. doi:10.1016/j.jacr.2015.04.008. Epub 2015 Oct 3. PubMed PMID: 26439738.