By Mario Cedillo, M.D, PGY-2, Mount Sinai Hospital
To ensure the future success of Interventional Radiology (IR), we must promote and facilitate diversity, inclusion and cultural sensitivity to enhance thoughtful and innovative ideas, reduce unconscious bias, and to more effectively treat our increasingly diverse patient population. Under-represented Minorities in Medicine (URM) are characterized as Black, Hispanic, American Indian, Alaskan natives, and native Hawaiians. According to a study published in Radiology in 2014 by Chapman et al, the field of Radiology ranked 20th out of 20 of the largest medical specialties in URM representation. With respect to Interventional Radiology, West et al in 2017 compared ethnic and gender diversity in Radiology fellowships and found that Interventional Radiology, along with Neuroradiology, demonstrated the lowest levels of URM representation.
A plausible explanation for this disparity is recruitment. Previous studies have demonstrated that a majority of medical students do not know that radiologists perform interventional procedures, have a poor interest in IR, and are not interested in a career in IR.
Understanding and addressing this issue of recruitment and URM disparity became the primary interest of the Interventional Radiology Outreach Program (IROP), a small group of like-minded medical students and residents committed to increasing diversity in our field and functioning under the guidance of faculty mentor Dr. Vishal Kumar (Assistant Professor of Interventional Radiology at University of California, San Francisco).
The initial step in this initiative required identification of medical schools with a high enrollment of URMs and no identifiable IR interest group, no SIR faculty listed, and no training program. Such programs were labeled "Category 3" schools, as seen below in Table 1.
Of the 148 total US Medical schools, 19 medical schools were identified as Category 3 schools, as seen below in Table 2.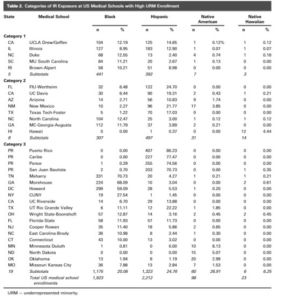 Following identification of these institutions, the next step for IROP was to connect with the student body of each Category 3 school in order to assign dedicated student ambassadors to represent each site. These ambassadors will be tasked with the critical role of establishing an IR interest group at their respective sites. Additionally, each ambassador will receive focused mentorship through the SIR mentor match program and be strongly encouraged to apply for the SIR travel scholarship.
Over the past few months, our IROP team, which included myself, Jamal Jefferson (MS3 at the University of Rochester School of Medicine), Nabih Diab (MS4 at Texas Tech Health Science El Paso), and Dania Daye (PGY4 Radiology Resident at Massachusetts General Hospital), actively reached out to Category 3 schools by performing raw internet searches to identify student liaisons and sending emails to the student body to offer the opportunity to serve as ambassador. After countless internet searches, email exchanges, and long discussions over how to best appoint ambassadors, 18 ambassadors representing 9 of the 19 Category 3 schools were recruited.
These efforts culminated in an introductory webinar held on November 4th, 2017 where we were able to meet the ambassadors, provide an introduction to IR, and highlight our goals for the year. In addition to Dr. Kumar, Dr. Paul J. Rochon, Associate Professor in Radiology and IR Program Director at the University of Colorado, provided thoughtful insights on the current scope of IR practice and future directions (webinar links provided below).
Our goals for the next several months are to further expand recruitment to the remaining Category 3 schools, offer exposure to SIR/ RFS resources, ensure the establishment of IR interest groups, and provide future webinars to ensure that our ambassadors and their respective institutions get the proper resources to maximize their exposure and understanding of our field.
While a great deal of work lies ahead, we are encouraged with the early progress and look forward to expanding the efforts of IROP.  Ultimately, these efforts will help address the disparities that exist in our field by influencing a rise in URM participation in SIR and in the IR residency/fellowship.
Link to introductory webinar:
https://fiudit-my.sharepoint.com/personal/rle001_fiu_edu/_layouts/15/guestaccess.aspx?docid=1f42ea5b374104d77b097f65e46fe2884&authkey=AYjiVpLBVnEUcSfkVeSRXlk&e=6764341781d043e3882a81ff9c0d1af7
Link to introductory webinar slides:
https://tinyurl.com/IROPIntroWebinarSlides
References:
Chapman CH, Hwang WT, Both S, et al. Current status of diversity by race, Hispanic ethnicity, and sex in diagnostic radiology Radiology 2014; 270;232-240.
West DL & Nguyen HJ. Ethnic and Gender Diversity in Radiology Fellowships. Journal of Racial and Ethnic Health Disparities 2017; 3:432-445
Malley L, Athreya S. Awareness and level of knowledge of interventional radiology among medical students at a Canadian institution. Acad Radiol 2012; 19;894–901.
Baerlocher MO, Asch M. Protecting the future: attracting interventional radiology trainees- a medical student's perspective. Can Assoc Radiol J 2006; 57; 147
Kumar V, Diab N, Jefferson J, Lehrman E, Laberge J, Wilson M. Characterizing IR Exposure at US Medical Schools with the Highest Percentage of Enrolled Underrepresented Minority Medical Students. Journal of Vascular and Interventional Radiology 2017; 28(12);1751-1753