On October 27, 2018, the University of Pennsylvania Interventional Radiology Interest Group organized the second annual Philadelphia Medical Student Interventional Radiology Symposium. Our speakers represented five institutions in the Philadelphia area.
Over 60 students, from 15 medical schools, across the northeast attended the event. The day consisted of multiple lectures about IR therapies and research, it included a hands-on simulation session hosted by our industry sponsors, and also had an interactive residency/program director panel.
With the advent of the new IR residency, medical student outreach has become even more important. The University of Pennsylvania's Interventional Radiology Interest Group is happy to be participating in the expansion of medical student awareness and education in IR.
The second annual Philadelphia Medical Student IR Symposium took place on 10/27/18.
The organizing team included, from left to right: Daniel Depietro (R1), John Choi (MS4), Shawn Ma (MS4), Elliot Stein (MS5), Nicole Curnes (MS3), Zachery Zapatero (MS2), and Erica Alexander (R3). Julia D'Souza (MS5) and Dr. Deepak Sudheendra were also instrumental in symposium planning.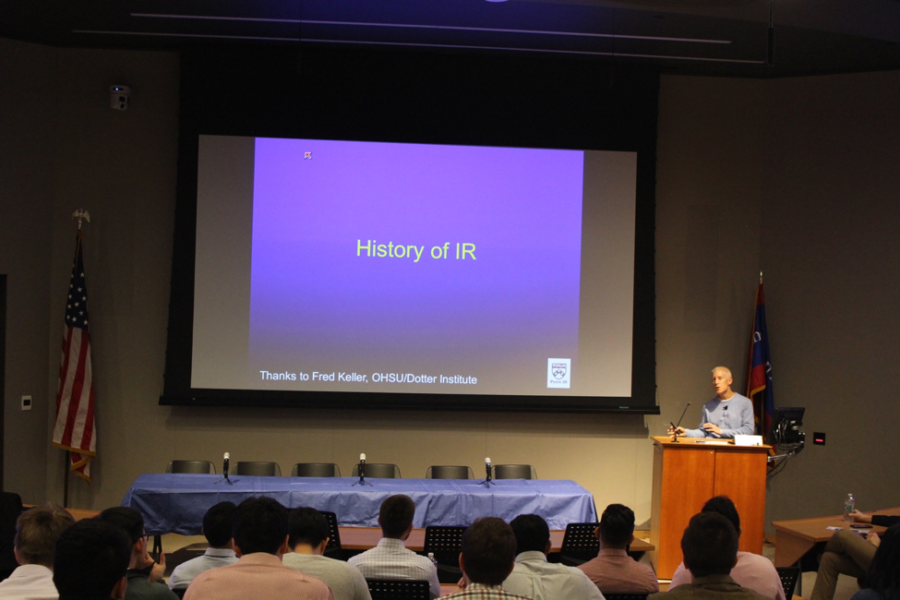 Lectures included a number of topics, including an overview on the History of Interventional Radiology given by Dr. Scott Trerotola and Interventional Oncology Therapies discussed by Dr. Susan Shamimi-Noori.
We had a very successful simulation session with many hands-on demos led by our sponsors: Philips, Terumo, SIRTex, Bard, Teleflex, BTG, Angiodynamics, Boston Scientific, and Cook.
By Erica Alexander, Resident Advisor IRIG at UPenn