Interview by Rei Mitsuyama, MS3, MD Student, Brown University
Name: Dr. Suresh Vedantham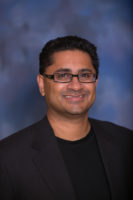 How did you decide on a career in IR?
I had some familiarity with IR as my father was a radiologist, though not an IR himself. I had a surgical mindset when entering medical school but was originally interested in oncology. This was until I heard about the first TIPS procedure. It was such an elegant way of fixing a complex problem, and I was hooked.
Please describe your typical work week. How is your time balanced between clinical work and research (i.e. what percentage of your time is spent doing research?)
My career has evolved quite a bit as it has progressed. For the first 10 years, I spent about 80% of my time doing clinical work. In 2008, I became funded by NIH for the ATTRACT trial, which began my transition to a more research-heavy career. For the next 8 years or so, my clinical time was reduced to about 40% while my research career expanded. Over the last 2 years, I have served in the role of Assistant Dean for Clinical Research at Washington University, which involves overseeing many aspects of research administration at the School of Medicine and beyond. This has included playing a leadership role in our NIH-funded Clinical and Translational Sciences Award Program. Currently, I spend about half of my time overseeing clinical research at Washington University. I am also leading the C-TRACT trial, another large NIH-sponsored multicenter clinical trial, and maintaining some clinical responsibilities as well.
What are some of rewarding parts of working in your field? Challenges?
Rewards
There are many aspects of working in IR that I have found rewarding. IR is completely unique in the way we can help patients and how we consult and interact with other fields. I developed a niche in venous disease which has led me to collaborate with a broad range of vascular specialists throughout my career. In doing so, there has been great sharing of knowledge that is invaluable to IRs and other physicians alike. Of course, I have also built incredibly rewarding relationships with patients, which is presumably part of the reason why we all became interested in medicine in the first place.
Challenges
The biggest challenge is time management. If you incorporate research into your career, that is extra time you have to put in on top of clinical work. At the same time, patient care can never really be a "second priority". Again, the reason we pursue careers in medicine is to care for patients. Even the research we do should have the goal to better patient care. On top of my local responsibilities, my roles in research and leadership have led me to travel fairly often (3-4 times per month for a number of years now). It is not always easy to balance work with other responsibilities. It is important to think proactively about life and what is important to us. Without work-life balance, it's difficult to be a complete person and that can affect your professional life. If you can try to observe some boundaries (e.g. time set aside for family) and structure, that will always be helpful.
What do you think medical students should know about IR (the field, the career, the technology, etc.)?
IR gives you a skill set and a way of interacting with other colleagues that shouldn't be underestimated. It gives you a broad range of options in terms of what you can do with your career. Besides clinical work, you can work in technology, informatics, government, or even inventing devices yourself. The technology available is amazing. It is important for young IRs to have the mindset to grab the new technology as it is developed and discover how to utilize it. We will always need people who bring their own kinds of expertise so that IR can stay at the front of research.
Why should students get involved with IR research?
From the perspective of medicine, we like to talk about evidence-based medicine. We want to treat patients based on what we know works and in which patients specific treatments are indicated or not. Insurance companies are going to draw these lines wherever they feel like, but at the end of the day they too rely on evidence.
From an individual perspective, research is great because it broadens the mind. It makes you think in ways you have not before, and in a more organized fashion. The more research-savvy you are, the more organized you will be in your thinking of how to take care of patients. Furthermore, your colleagues will see you as being more reputable if you show that you can conduct good research, and that you genuinely care about the actual outcomes patients are obtaining with your treatments.
Please describe your field of research, what's upcoming/can we get excited about?
I specialize in venous disease. The ATTRACT trial (for which he was the national Principal Investigator) evaluated imaging-guided treatment for acute DVT and was pivotal in its area – really, a great example of the type of impactful research that is possible in IR. Currently, I am heading the C-TRACT trial which is looking at patients with established post-thrombotic syndrome and trying to determine if IR procedures can improve symptoms and quality of life. We have just begun enrollment for the trial. There are also several device trials going as well including new venous stents that will hopefully be approved in the next couple years.
As I have progressed further in my career, I have had the opportunity to interact with more basic researchers who are interested in learning more about the biology of these diseases. This has been helpful more closely tying the clinical and physiologic aspects with the basic science. I have found that leaders in other fields who were skeptical of interventional procedures in the past are now more open to them, and it seems to be because more IRs are engaged in multidisciplinary spaces, including multicenter clinical trials. These IRs have been able to show that they are thoughtful and motivated by the right reasons (i.e. patient care), which is making our colleagues more comfortable in looking at what we have to offer.
What are some other hot topics in research that medical students should consider?
I am a believer that you have to find what interests you and motivates you because that will make you far more likely to follow through with your research. Often times, you run across problems in the course of patient care and that will spark your curiosity and give you the research bug. It's a great way to see where our solutions are limited and where there is room for improvement. Ultimately, we need people who want to connect the intervention with the biology of the disease.
What advice do you have for medical students wanting to do IR research?
An initial step is to find mentorship. Don't be obsessed with finding a single/specific person. Find someone you can learn from and who is excited to teach. Once you have found one or more mentors, it's important to build a relationship. Medical school can get busy, as can physician schedules, so even when there are times when you don't see each other for a while, it's important to keep in touch. Further, it is invaluable to know where the research resources are at your institution. Too often, students and physicians (especially IRs) alike are unaware of the resources available to them.
If students have the time and motivation to make research a larger part of their careers, additional expertise is always useful. Whether it's taking time off to do research, learn particular skills, or to get a master's degree, we need more IRs who are professionally trained in research. Any of these experiences allow one to bring an extra dimension to their research. Lastly, we note that often times we view clinical care as our vocation and research as a side project or "hobby". That is a fundamental challenge for our field. However, we must approach research with the same professionalism that we approach patient care, as the goal is for our research to positively impact patient health.
What are some skills/assets that make for a good researcher (as a med student, resident etc.)? Stats? Comp sci?
More important that any specific skill is to be inquisitive and have a desire to think in an organized and balanced way. If you can pursue research with this mindset and a certain level of professionalism, you don't need an IQ of 180 or an extensive research training background. Motivation and a sincere desire to follow the truth wherever it leads can take you a long way.