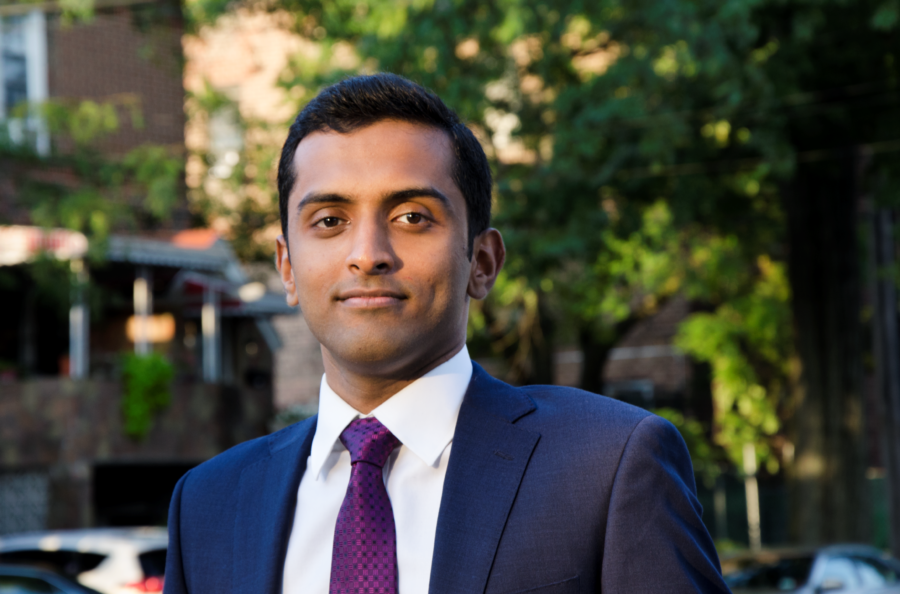 Tell us a little about yourself…Where are you from? What did you study in college? Where are you going to medical school and what year are you? Do you have any other degrees? Any hobbies you are passionate about?
My name is Abin Sajan and I am a fourth-year medical student at SUNY Downstate College of Medicine in Brooklyn, NY. I grew up on a small rubber farm in South India and immigrated to the U.S with my parents and older brother when I was in elementary school. I earned my bachelor's degree in Psychology at the City College of New York (CCNY) in Harlem where I was fortunate enough to get an early exposure into basic science research. I worked as an Emergency Medical Technician during my four years at CCNY which organically cultivated a strong desire to pursue medicine. My hobbies include spending time with family, cooking, and playing squash.  
How did you get interested in a career in IR?
Early on in medical school, I developed a strong interest in anatomy and imaging and knew I wanted to practice in a specialty that involved these two interests. As a third year, I had a vague idea about IR, but didn't fully understand its scope until I attended the NYC Medical Student Interventional Radiology Symposium at Mount Sinai. I found the depth and creativity of the procedures exciting and wanted to contribute to one of the most innovative, cutting-edge fields in medicine.
Please describe what IR-related projects you have been involved in, and what those looked like on a daily basis (if you were doing them full time)?
My main research project is focused on musculoskeletal embolization for chronic joint pain, specifically Genicular Artery Embolization (GAE). At SUNY Downstate, we noticed the lack of literature on the genicular arteries and offered a solution via cadavers. I worked with Dr. Maziar Sighary to dissect the knee joints in approximately 130 cadavers from four different medical schools over the course of two academic years to study arterial variations. Currently, we are in the process of finalizing our results and proposing a genicular artery classification system.
On the clinical side, I work with Dr. Sandeep Bagla to analyze the angiographs of patients undergoing GAE for osteoarthritic knee pain and arterial embolization of the shoulder for pain secondary to adhesive capsulitis. We study the angiographs for arterial variations and other measures relevant to the procedures. Most of my research is part-time and has either involved dissecting cadavers or identifying patterns in angiographs. It is heavy on the anatomy!
How have you incorporated research with your med school curriculum and responsibilities?
Since I came across IR during the second half of medical school, it was important that I spend some extra time on research in my third and fourth year. Most of my cadaveric research and data collection was done on weekends when I didn't have classes. After data collection, I found it easier to set aside 8-10 hours over the week for analysis and writing. I also set aside a dedicated research month in fourth year to tackle larger clinical projects.
What research had you been involved in prior to medical school (if any)?
I was involved in basic science research before medical school. We used a transgenic mouse model of Parkinson's disease and created a motor skill learning paradigm to study paw placement strategy adaptation. I also worked in an electrochemistry lab to study the reduction mechanism of glutathionyl‐cobalamin in acidic media. I learned the fundamental principles of research with these projects.
What are some of the most rewarding parts about doing research, for those who may be considering getting involved in projects? The challenges?
The best part about research is the opportunity to learn. Not only do you learn from papers in the field by conducting research, but you also have the potential to develop working relationships with experts. Each part of the research process including literature review, conducting the project, typing the manuscript, and presenting increases your knowledge and brings you closer to becoming an expert on the stage. The main challenge really is time, this includes time spent on finding the right mentor and dedicating enough time to develop and complete a project in a reasonable window.
How did you identify your research mentor(s)? And what tips do you have for those who are looking for one? What makes a great research mentor?
I was fortunate to have an active IR faculty at SUNY Downstate, especially Drs. James Walsh and Maziar Sighary. Like other great mentors, they actively managed my student career by making sure to present me with opportunities and by providing honest insight into IR. For those looking for the right mentor, I recommended attending IR Conferences, like the SIR annual meetings. These gatherings are great opportunities to establish a lasting network and meet potential mentors. I met one of my closest mentors, Dr. Sandeep Bagla, at SIR 2019 who has offered me incredibly valuable career advice.
What are some skills/assets that make for a good researcher as a med student?
I think genuine interest and hard work are the most valuable assets for a medical student to become a good researcher. While additional technical skills can be useful, people who are willing to learn about a given topic and willing to spend many hours on it, are able to produce meaningful research in a timely manner and effectively promote their work on various platforms.
Any recommendations for finding funding (or is it even necessary)?
I was fortunate to receive both the Dr. and Mrs. W.C. Culp Student Research Grant and Dr. Constantin Cope Medical Student Research Award from the SIR Research Foundation for my work in GAE. These SIR awards provided me with the financial support to pursue and complete specific research projects. Funding is often necessary to address the different parts of research (e.g. software, equipment, transportation) and I recommend learning about the different medical student grants and awards offered by the SIR, RSNA, and ACR in the beginning stages of your research.
What advice do you have for getting more medical students involved in IR and knowledgeable about what the field has to offer?
I think early exposure to IR is crucial especially since IR is not part of the default medical school curriculum. I found the medical student symposiums and SIR meetings/conferences amazing opportunities to learn about the scope of IR and meet some incredible people. I also think campus interest groups can play a vital role to promote interest in IR by publicizing significant developments within the field and even recommending students for conferences and meetings in the area.
To learn more, come to Abin's oral presentations at SIR 2020 this year!
Date: March 29, 2020
Scientific Session: Degenerative/Inflammatory Joint Disease

3:27 – 3:36 PM: Genicular Artery Anatomy: Angiographic Analysis from Two U.S Clinical Trials

4:03 – 4:15 PM: Angiographic Analysis of Arterial Embolization of the Shoulder for Adhesive Capsulitis