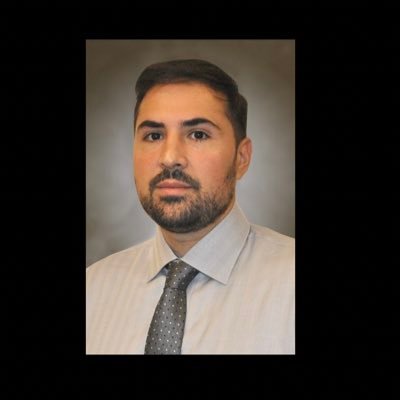 Can you give us an overview of your background?
I was born and raised in El Paso, Texas to Lebanese parents in a household where English, Arabic, French, and Spanish were spoken fluently. I graduated from Cathedral High School and completed my undergraduate degree in biochemistry at Harvard, where I spent three years performing research in stem cell biology and tissue engineering. I subsequently completed my MD at Yale, where our gross anatomy course was co-taught by the Department of Radiology, which introduced me to the field very early in my education.
My laboratory research focused on synthesizing pancreatic and hepatic "organoids" for transplantation, which had set me on my original path to become a surgeon. But I stumbled across interventional radiology during PubMed literature reviews, where I discovered the investigational use of image-guided, percutaneous transplantation of pancreatic islet cells into the portal venous system as a therapy for type 1 diabetes, with monitoring of cellular viability and function via MRI and nuclear molecular imaging. It wasn't long before research groups around the world began investigating image-guided molecular/cellular therapies for CAD/PAD, solid tumors, spinal cord injury, neurodegenerative diseases, and more. I immediately saw the potential of this new paradigm.
Not long before residency application season began, a close family friend invited me to shadow him for a week in IR. I was intrigued by the breadth and depth of clinical expertise that IRs applied across all sub-domains of medicine, especially in the acute setting. At Yale I was fortunate to meet Drs. Bob White and Hamid Mojibian who became amazing mentors. I felt an instant "cultural fit" with IR—I felt that surgery exalted its history and firmly established traditions, whereas IR celebrated its uncharted future as a burgeoning specialty that was redefining standards of care with disruptive imaging and device technology.  As a futurist and a risk-taker at heart, I wanted to ride this new wave, not be engulfed by it.
I did my internship in internal medicine at MGH. I customized my schedule to be heavy in critical care, cardiology/vascular medicine, gastroenterology/hepatology, and oncology, understanding that these specialties overlap significantly with IR. It was an intense year, with the sheer volume of cases managed, the extreme autonomy bestowed upon house staff, and the relentless pursuit of evidence-based medicine which laid a solid foundation for my current clinical IR practice. 
I stayed at MGH for my residency in diagnostic radiology. With some planning, I was able to satisfy the requirements for the ESIR curriculum (including a SICU rotation) and also complete a fellowship in cardiac imaging, earning Level III certification in both cardiac CT and MRI, in-demand diagnostic skills which have served me tremendously well in private practice.
Between residency and fellowship, I completed a one-year post-doctoral fellowship in biodesign innovation and digital health at the Texas Medical Center. Much more about this in the questions below.
When it came time to choose an IR fellowship, I wanted the most intense training program possible, where case volume, variety, and fellow autonomy would be maximized across all of the IR service lines. There's a saying, "You can't do the same fellowship twice," and it's absolutely true for IR, which is a relatively young and small specialty that is constantly evolving from forces within and around it, resulting in a very heterogeneous practice landscape. I completed my IR fellowship at the University of Texas Southwestern Medical Center, which was a phenomenal training experience spanning the full gamut of vascular, oncologic, GI/GU, hepatobiliary, trauma, pediatric, and neurologic interventions. The IR cases were definitely bigger in Texas.
Describe your current job responsibilities via private practice radiology and your medical innovations/consulting roles?
I joined a traditional physician-owned private practice that owns and operates outpatient imaging centers and contractually provides radiology services to a large hospital system. I am about 60% IR with a busy service providing the full spectrum of image-guided interventions, including PAD, DVT/PE, IO, TIPS/BRTO, UFE/PAE, etc. In my 40% DR time, I focus mainly on cardiovascular imaging, with a very high volume of cardiac CT (including FFR-CT and TAVR/TMVR/PVI examinations), cardiac MRI (adult and pediatric), peripheral vascular ultrasound/CTA/MRA, and (radiologist-interpreted) echocardiography and nuclear (SPECT/PET) stress tests.
My day-to-day clinical work allows me to identify unmet needs in both diagnostic and interventional radiology. For example, catching a missed diagnosis on prior imaging, encountering technical difficulty during a procedure, or managing a post-procedural complication, can inspire innovative digital and/or device-based solutions to prevent them in the future.
In terms of med tech roles which I pursue in my non-clinical time, I am the inventor/co-founder of two medical device companies and the medical officer for two digital health companies. NoviRad, Inc. (Houston, TX) has developed a novel percutaneous drainage catheter system. Azygos Vascular, Ltd. (Galway, Ireland) has developed a first-in-class structural heart intervention to treat HFpEF. Ferrum Health (San Francisco, CA) has developed an AI-powered quality and safety system which second-reads diagnostic radiology examinations for missed significant findings. POCUS Systems, Inc. (Los Angeles, CA) has developed an AI-powered handheld point-of-care ultrasound system optimized for use in interventional procedures.
In your experience, what do physicians who are interested in private practice in IR need to keep in mind when comparing it to academic practice?
The traditional differentiators between academic and private practice have blurred over time, and the landscape of private practice has also changed substantially. These days, both academic and private practices operate under the same financial boundary conditions of increasing operational costs and decreasing reimbursements, making RVU/FTE an emphasized physician performance metric in both settings. The need to produce clinically often comes at the zero-sum cost of protected time for research and teaching, duties which may be relegated to after-hours.
Today's private practice landscape is best classified by entity ownership structure. 1) Traditional private practices are majority owned and operated by physician shareholders, with or without capital assets (e.g., brick and mortar offices, imaging equipment, etc.). 2) Direct employment by private or public (including governmental) integrated delivery networks (IDNs), which are large health systems that have grown over the last few decades from hospital mergers and acquisitions. 3) Corporate practice, which was catalyzed by the scalable deployment of teleradiology technology in the 2000s and which challenged the business model of on-site practice. In the last 10 years, private equity firms have consolidated approximately 5-10% of radiology private practices in the US into corporate mega-groups, a few of which have in turn gone public.
In my opinion, traditional private practice offers IRs the greatest autonomy and latitude for high-end clinical practice building and is definitely the most financially rewarding, especially when investment is made in an office-based lab (OBL) or ambulatory surgical center (ASC). In addition, for IRs interested in med tech, it is critical to understand the intellectual property and equity agreements delineated in an employment contract, which can be relatively unfavorable to the physician inventor if hired by an academic center or other large institution.
How did your year-long post-doctoral program in health tech innovation and entrepreneurship prepare you for a career in medical technology?
The lack of meaningful business education in medical school and residency/fellowship curricula is unfortunate, since it puts physicians at a disadvantage in the real world, where non-clinical administrators have taken control over so much of health care, from hospital governance to insurance companies to the biopharmaceutical and medtech industries. Understanding the language, principles, and metrics of business are no longer just nice-to-have qualities for modern physicians; I consider them must-have competencies, critical for anyone venturing into industry. 
It is difficult to gain meaningful exposure to the med tech and venture capital industry on a part-time or avocational basis. To become a player in this space requires a dedicated immersion period to untangle its operations, network with relevant stakeholders, and discover opportunities. But full-time MBA programs are expensive, approaching 7 figures when accounting for opportunity costs, and executive programs feel that postgraduate medical education doesn't count for real-world experience in their admissions decisions. 
Biodesign fellowships fill these gaps in an excellent way. After a multi-step application process, I was selected as an innovation fellow at the Texas Medical Center, where I was teamed up with engineers and business consultants to develop novel device-based and digital solutions to unmet clinical needs. It was an intense year of formal didactics on venture formation and financing, intellectual property, prototyping, FDA regulation, and clinical investigation. It was a truly immersive learning experience in multidisciplinary team building, problem solving, and communication skills. I am often asked by trainees when the best time is to complete an innovation fellowship. I found that a year between DR residency and IR fellowship was perfect, as I was able to work as a tele-radiologist in the evenings to maintain strong diagnostic skills and income.
Where do you think bio-innovation in IR will push the future of the field?
Radiology is the Silicon Valley of medicine, and technology is its lifeblood. IRs pride themselves on being early adopters of new gadgets and techniques, and it's what I absolutely love about the field. One thing I tell prospective trainees is that IR is still in the transition period between fledgling startup and established enterprise—what venture capitalists refer to as the "Valley of Death"—and as such is still subject to rapid boom-bust cycles. Turf wars, credentialing hurdles, reimbursement cuts, and competing technologies (e.g., endoscopic procedures, novel targeted drug therapies, etc.) are realities which our specialty will have to strategically contend with. As IRs grow in number and stature and become more visible on the clinical, research, and administrative playing fields, our future will become secure. 
Innovation happens at the boundaries and intersections of different fields. Interventional oncology is currently at the center of IR research and will likely remain so for years to come. But the caliber of IO clinical trials is limited by funding, patient recruitment, and equipoise vis-à-vis competing anti-tumor therapies. If IO researchers can form collaborative relationships with medical, surgical, and radiation oncologists, as well as with biomedical engineers and basic scientists in molecular/cell biology and immunology, the future of IO could be very exciting.
Personally, I am very bullish on tumor ablation, where I foresee huge growth in procedural volume, indications, and positive long-term outcomes data. I am particularly excited about the ongoing investigation of ablation for breast cancer, ablation and cementoplasty for the palliative treatment of bone tumors and pathologic fractures, and the synergies being discovered between ablation and molecular/cellular immunotherapies. With the exception of ablative Y90 radiation segmentectomy, I am bearish on other trans-arterial liver tumor therapies, as they are likely to be outperformed by the development of targeted small molecule and/or antibody agents.
Compared to IO research, vascular IR research is much more mature, with a large amount of high quality evidence supporting an "endovascular first" approach to occlusive and aneurysmal arterial disease throughout the body, with major contributions from colleagues in interventional cardiology and vascular surgery. Clinical trial research on the endovascular treatment of stroke and DVT/PE with novel devices is following a similar exciting trajectory.
Could you shine more light on your experiences with healthcare policy and law?
Understanding healthcare policy and advocacy is critical to defending patient care and advancing our profession. My experience dates back to high school, when I competed in cross-examination policy debate tournaments at the city, state, and national levels, and also successfully managed a state-level judicial re-election campaign. During medical school, I co-founded the Yale chapter of the American Medical Association. In residency and fellowship, I participated in several ACR and SIR advocacy trips to Capitol Hill in Washington, D.C. to discuss imaging-related policy with Congressional leaders, and I continue to be involved with the Voices for IR Grassroots Program. In 2020, I was appointed by Governor Greg Abbott to serve on the Texas Council on Cardiovascular Disease and Stroke, where I formally advise executive and legislative public health policy.
What advice would you give medical students aspiring to become IRs, especially those interested in med tech?
Focus on being a great doctor first, a skilled radiologist second, and a successful innovator third. Always keep your diagnostic imaging skills sharp, for the best IRs are also excellent DRs.
There is no best training program or perfect job, only the right one for you. Learn the meaning of organizational culture, and make sure that your vision of excellence aligns with those around you. Good mentorship is invaluable but must be sought out. Leaders invite you to work with them, not for them. Know your value. Remember, institutions don't love you back.
Patent first; publish later. Innovators don't waste time on committees. Groupthink is deadly.
Always let best patient care be your North Star, and you will never be lost.
Interview by Rohil Malpani, Yale School of Medicine '21