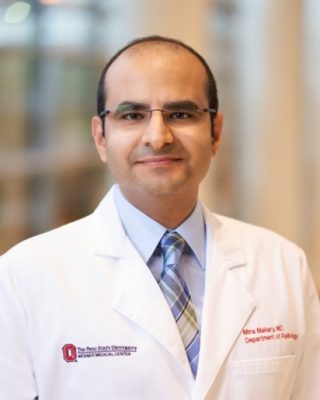 Twitter: @MinaMakaryMD
What are your personal and professional experiences and how it led to the position you currently hold?
I'm a Vascular and Interventional Radiologist and an Assistant Professor of Radiology at The Ohio State University (OSU) Wexner Medical Center in Columbus, Ohio, and I also serve as the Director of Scholarly Activity and Research in my department.
I'm from Ohio, and I did my training (medical school, diagnostic radiology residency, and interventional radiology training) at Ohio State – Go Bucks! I loved working at Ohio State because of its strong, clinically-oriented, and collegial IR department, so I also stayed on as faculty after my training.
I really enjoy my job for a variety of reasons. We have a very clinically centered practice where we do a variety of interventions from simple to complex while taking care of patients in both the inpatient consult service as the well as the outpatient clinic environments. It is very rewarding to work with patients to improve their quality of care.  I also enjoy working with medical students, residents, and fellows, and I get to be a part of their journey and see them develop over time. Lastly, innovation is key focus of our division, whether through research and discovery or through direct advancement as we take care of exceedingly complex and sick patients in IR. I consider myself extremely lucky to have found IR because I can't imagine a better specialty with a more exciting amount of opportunity, and the chance to have a huge positive impact on patients.
How did you find Interventional Radiology (IR) as a specialty? Is that something you always knew you wanted to go into or is that something you found later on?
OSU has always had a strong history of IR and the college of medicine had a strong IR interest group. I didn't really find out about IR until third year of medical school. When I was in my diagnostic and interventional radiology rotation as a medical student, I saw the exciting work being done in the field. Back then, IR was a fellowship after diagnostic radiology residency, so I didn't have to make a decision early on at that point.
I further gained a deeper appreciation throughout my intern year and in my diagnostic radiology residency when I had more responsibility on my IR rotations, confirming the belief that it was the coolest thing ever. Radiology in general and IR specifically – the more you learn about it, the more you appreciate it. From the outside, someone looking in may not know all of what you're thinking and your thought process/problem solving. But the specialty is exciting beyond imagination – the more you learn, the more exciting it becomes.
Also, I'm a doer so I like to use my hands and problem solve, but I'm also a thinker. In medicine there's a certain dichotomy that if you're a thinker you go into certain types of specialties and if you're a doer you go into other types of specialties. But I enjoyed both – I enjoyed being creative and using my problem-solving skills to make a diagnosis, but then also act on it. What strikes me about IR is that it is very broad (you get to deal with a lot of systems), it's very cutting edge (you get to interact with a lot of technology), you get to deal with a lot of problem solving and you get to improve outcomes by doing procedures that are minimally invasive and have a shorter length of stay, quicker recovery, and lower cost to the system.
For example, I was in clinic the other day explaining to a patient about the Transjugular Intrahepatic Portosystemic Shunt (TIPS) procedure and how the procedure creates a new blood vessel in the liver to decrease the blood pressure in the  portal system. After hearing my explanation, the patient looked at me and asked "you're going to do all of this with just this pinhole?" And i said "yes!" But after looking at how big the stent was, the patient didn't believe me.
IR is the future!  
Do you have a favorite clinical procedure?
There are three parts of my practice that I really enjoy.
Interventional Oncology (IO) is an area that is very rewarding as an interventional radiologist as we are central part of the cancer patient's journey from the very beginning of their oncological care through biopsies & ports. We also therapeutic locoregional therapy like transarterial chemoembolization (TACE), Y90 radioembolization, and ablations as well. Ablations for treatment of early-stage hepatocellular carcinoma (HCC), for example, can be curative. The patient comes in the morning; you ablate their tumor and the patient goes home free with a band-aid. There is no other therapy in medicine that literally cure cancer in this definitive and quick way. Additionally, later on in the patient's oncological care, IR is involved from a palliative care and pain standpoint.
I also have a strong clinical presence doing venous interventions (acute and chronic). Those patients are very grateful – the outcomes are really striking when you treat somebody's veins and the swelling goes away and it changes their quality of life significantly. Many of these patients are underdiagnosed or have been told in the past that there are no treatment options. So, the impact of a successful endovascular therapy is huge and it's very rewarding.
Finally, I've also focused my practice on performing advanced portal interventions, such as TIPS/Balloon Occluded Retrograde Transvenous Obliteration (BRTO)/balloon-occluded antegrade transvenous (BATO)…etc. OSU is a major transplant center and we have the privilege of taking care of these patients, so it's very rewarding to help them out and provide a good outcome for these often critically-ill group of patients.
What are your ongoing research projects?
My research interests are very broad as well – and they mirror my clinical interests. I've done research on interventional oncology & venous interventions. One project that comes to mind is locoregional therapies for neuroendocrine tumors. Neuroendocrine tumors are very rare but we treat a large number of patients as OSU is a big tertiary care center for these patients. I've published an exciting study evaluating the outcomes of drug eluting beads (DEB) vs conventional TACE for neuroendocrine tumors.
Additionally, I've also published on educational resources for residents and medical students, such as the IR symposia. I've published on informatics and wrote a paper on applying an informatics solution to improve the workflow for radiologists. Finally, one of the dearest areas of interest to my heart right now is ethics in IR. When working with evolving technologies, you always have to ask how to deal with it and discuss issues like utility, conflict of interest, and turf wars. All these issues come to mind and we've done really good work with my good friend Eric Keller who is a great inspiration to me.
What are you most interested in the future of IR?
In my view, research in IR, like any specialty, is split up into two ways: optimization of existing procedures/interventions and developing new interventions/innovations. Procedures like Y90 radioembolization have been done for a long time. We started with lobar and have progressively gone more selective. With the Legacy trial coming out, we are now able to achieve great outcomes with higher dose radiation segmentectomy. These are all new advancements and approaches that allow us to get pathological necrosis and go from a palliative approach to a curative approach.
The other area for research focuses on new procedures such as geniculate artery embolization, prostate artery embolization, and interventional pain procedures. We may also be able to apply existing technology to new fields. For example, there are ideas on using Y90 for treatment of prostate cancer, thrombocytopenia, and potentially glioblastoma, a radiosensitive tumor in the brain. Between all these developments, we'll have a huge impact in patient care.
What advice would you give medical students, residents, or early career IR attendings interested in an academic career?
The advice I'll give applies whether they plan to go into academics or not – work hard, learn as much as you can, and treat every rotation as if you are going into that field. Don't say "I'm going into IR so I don't need to learn about this as much" Everything you learn in medicine will help you become the best physician you can be.
Practice as a clinically centered physician-in-training – don't say this is just a procedure. It's not just about the procedure – the procedure is the smallest thing you can do. It's about the patient, including periprocedural care, management, and the even decision to intervene or not. Patients really appreciate this approach. This process is how you achieve great outcomes in patient care.
Always ask questions – there are no stupid questions. Even if you don't know the answer – find out why. Sometimes the experts don't know.
For those going into academics, start research early. Research takes a long time. For every project you do, you'll learn a lot: the process of research, how to write papers, how to do statistics, how to interpret results, how to do the review process, and how journals work. The more you do, the better you'll be. It is an enjoyable process – the fun of discovery is very real and alive. When you discover something and you contribute to the literature, you are helping not just one patient, but everyone else coming after you. You are contributing a small piece to the bigger puzzle – so keep that excitement going!
The future is extremely bright because of the medical students of today. Every time a medical student asks me for work on a project and I see their excitement and we discover something together – it makes me realize that this generation will take us to the next level!
Interviewed by: Vedant Acharya
Medical Student – 4th Year
University of Miami Miller School of Medicine
@vedantacharya20