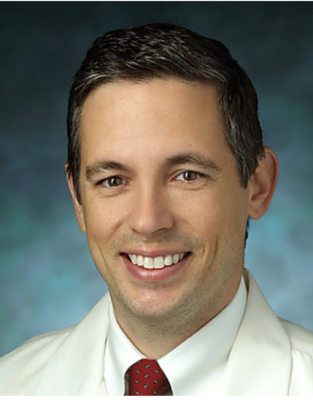 Assistant Professor of Radiology and Radiological Science
EXPERTISE
Complex IVC Filter Retrieval, Fibromuscular Dysplasia (FMD), Interventional Radiology, IVC Filter Placement, IVC Filter Retrievals, Limb Threatening Ischemia, Renal Artery Disease, Varicose Veins, Vascular Disease , Vascular Malformations, Venous Thromboembolism
Can you give us a brief overview of your background? How did you discover Interventional Radiology and what made you decide to pursue a career in this field?
I came into IR sort of late. I went through medical school trying out a couple of different specialties. I initially thought I would do a surgical subspecialty like ENT, Ortho, or Plastics. However, I was MD-PhD and after finishing the PhD component of my training program, my interests had changed somewhat and I was more focused on the anatomic components of disease. This led me towards eventually pursuing a diagnostic radiology residency at New York-Presbyterian/Weill Cornell Medical Center. 
During residency, I also tried out a lot of different subspecialties in Radiology but I ended up liking Interventional Radiology the most. Ironically, this was the subspecialty that was the most surgical in nature. But I had previously done a surgical internship and had a great experience there. I appreciated the hands-on, procedural focus of the field, and enjoyed the patient contact it provided. Ultimately, I think it was a good mix of my interests in medical imaging, anatomy, and hand-on or surgical approach. I pursued my training in Vascular and Interventional Radiology at the Miami Cardiac & Vascular Institute, where I had a great experience.
What unique perspectives does being a physician-scientist provide? What are some additional rewards and challenges that come with that title?
My PhD was in the development of the sensory nervous system, however I utilized a lot of imaging to visualize the neural systems I was investigating. During this time, I developed and built a lot of new microscopic technologies and procedures. So this process taught me how to image and visualize complex systems. I consider IR to be the least standard of the imaging modalities. We have to be very dynamic and creative in the way we visualize disease processes intraoperatively so that we can successfully conduct our procedures. 
As one of the new attendings at Hopkins, I appreciate the technology-driven approach of the institution and the IR division here. There is opportunity for research and advancements at all levels whether it be preclinical or clinical. There are challenges however in that the field often develops very quickly and this development at time can outpace our own ability to test our own methods. Because our technology is moving so quickly, we are often on to the next thing before we have completely proven the last one. 
Can you speak to the opportunities available in IR as a career?
The way you mold your career in IR can be very diverse, it is one of the bigger draws of the field. You can do 100% IR with high complexity cases to almost all outpatient minor routine procedures. Some people mix interventional with diagnostic cases. So as an attending, you can really find the balance of complexity of procedures, lifestyle, and other interests like research that fits with your interests. I often liken this to being a neurosurgeon and neuropathologist at the same time: you can choose when you choose when you want to be operating and when you want to be doing diagnostics. Furthermore, you don't have to be static in your practice and you can shape your practice as you mature in your career. IR affords that flexibility.
I know that you have a focus in treating venous diseases. Can you talk about the opportunities to work at vein clinics as an IR doctor?    
Where I previously trained at Weill Cornell, they had developed a Vein Treatment Center that had become quite successful from both a clinical and commercial standpoint. This model has been replicated at a number of IR divisions at different university systems including Jefferson. Venous treatments really arose from IR and is a growing part of our field. Although the vein clinics often exist in the private space, I think it really needs to grow in the academic space. Often times, venous disease really affect a person's quality of life and you can make a significant difference in treating these types of disorders.
What are your current clinical and research interests?
Currently, I am dong a handful of clinical studies on all different aspects of IR. My particular clinical interests are in vascular disease and pain treatments. I do see a huge future in pain treatment. With the ongoing opioid crises, providers are trying to moving away from prescribing opioid medications. However, patients still have a lot of chronic pain. So I do believe that developing and improving treatments for pain is important. Being an IR, we can use image guidance to target particular nerves with good precision and then utilize a variety of interventions once we have reached our anatomic area of interest. 
Can you talk about how IR's management of pain interfaces with other specialties?
The treatment of chronic pain can also involve Anesthesiologists and PM&R doctors who specialize in pain management. I do believe that pain management requires a team centered approach involving these other fields caring for patients with pain diseases. But the particular advantage and contribution IR can provide to this domain is its intensive training with image and image-guidance. We have experience working with advanced imaging modalities like MRI and doing advanced targeted treatments. Some of our newer interventions include cryoablation of peripheral nerves and neurolysis techniques at the celiac plexus. A lot of the more advanced techniques do put patients at risk of complications, and another advantage as an IR in this space is that you can manage your own complications. 
What are some of the rewarding parts of working in your field? Challenges?
The most rewarding part of my first year working as an attending have been working with the trainees. It is really nice working with and learning from people who are smart, dedicated, and have similar interests. However it can be challenging because teaching adds a layer of complexity on top of doing a procedure myself: verbalizing the process of conducting a procedure and explaining its complexities without physically being able to do them.
What is your favorite IR procedure, and why? 
There are so many different procedures in IR that I enjoy, so it's hard to pick a favorite. But I often enjoy a good dialysis case. I find them to be very rewarding and they usually lead to good outcomes for the patients.
There is also a lot of innovation in this space within IR. Here at Hopkins, I am the point person for the novel Endovascular Fistula creation. This is a very interesting and innovative technique where we can create a new site for fistula using our percutaneous techniques. The procedure has been shown to have a technical success rate and maturation comparable to surgical fistulas. And the time to fistula creation is faster than surgical fistulas. In the end, I do think long-term studies will show patients treated with this approach will survive longer and it will also provide an alternative option for patients who are not good candidates for surgical fistulas.
This newer procedure is not available at all centers though. Hopkins is currently only one of two centers in the state of Maryland to offer it. And some providers have been hesitant to refer patients out for this procedure based on its novelty and relative lack of long-term data. But I have tried to combat this by focusing on outreach and education targeted towards these referring providers. I also thinks it helps to be stakeholder in the disease process. As an IR doc, I do a lot of dialysis catheters, fistulagrams, and emergent dialysis access procedures while on call. So the specialists in the nephrology department have become familiar with me and my dedication towards patient care, which makes them more receptive when I offer a new procedure.
What do you think medical students should know about IR?
Don't get psyched out. With IR training transitioning into the integrated residency, it is easy to look at the numbers and see how competitive the specialty has become. However, there are a lot of pathways to get into the field. And the field is always looking for interested and dedicated practitioners.  
Furthermore, there are whole swaths of the country where there are no IRs or where people have to travel far to receive IR expertise. So there is a definite medical need in this specialty for more practitioners and you can make an impact.
I believe it is a very good specialty from a career standpoint. There is a lot of flexibility in how you guide your career as we have previously discussed, IR docs are good colleagues that are often a relaxed and happy bunch, and there is good job market for the specialty.
Finally, I find the field to be very rewarding with outcomes that can significantly impact patient's lives.
Interviewed by: Ahmed Farhan
Medical Student