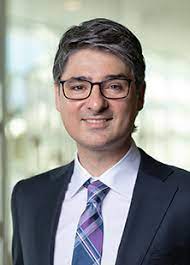 Physician Spotlight: Beau Toskich, M.D., Mayo Clinic Florida
Interview by: Sophia Mourad, MS2, Florida State University College of Medicine
How did you discover Interventional Radiology and what made you decide to pursue a career in this field?
I was unaware of extended applications of interventional radiology when I was a medical student. I was under the impression that if I wanted to physically engage disease that I should be looking at surgery as a specialty. I matched into the general surgery residency at the University of Florida where I began learning about oncology as well as liver transplantation. I kept hearing about how much transplant surgeons liked to work with IR and how instrumental they were to good outcomes on the transplant service. One evening, while caring for a trauma patient I went down to IR to observe a splenic artery embolization. The IR attendings were friendly, inviting, and were listening to classic rock while they worked. I remember being shocked at how effortlessly the attending went from time-out to selecting the splenic artery and how comfortable the patient was during the intervention. Afterwards, the IR team spoke to the patient about his minimal recovery without having to discuss management of a large wound, rehab, or living without a spleen. That was my very first exposure to IR having a noticeably unique impact in patient care.
This experience challenged much of my medical perception up to that point. I thought you had to be a surgeon to have that degree of therapeutic access to the human body. I kept thinking of the interventionalist's ability to confidently address something as critical as a solid organ laceration with a femoral arterial puncture – IRs ability to intervene on the sickest of patients because they do it with the lightest touch. I also saw it as a growing specialty with a lot of opportunity. After speaking to one of my mentors, I decided to take a leap of faith and switched from surgery to radiology, specifically to do IR. I haven't looked back or regretted a day since then.
Why did you pursue Interventional Oncology?
There are few diagnoses more terrifying to patients than having cancer. I was taught in medical school that once a cancer is in the liver, it is an automatic poor prognosis. While the last 15 years have seen amazing strides in cancer management, there is certainly still much more work to do, and the liver remains a formidable challenge. Therapies provided by interventional oncologists provide leverage against liver malignancies which otherwise would have limited options. That was a big drive for me in choosing this field.
When it comes to the more technical aspects of my job, I respect the fact that cancer is a highly complex entity. You have to know its blood supply, its histology, mutational profile, and its anatomic involvement. You have to understand the specific characteristics of the lesion that make it more suited for any given local therapy. You must equally understand treatment options that your oncology colleagues provide to generate an informed recommendation.
Overall, it's an intense and dynamic environment that requires incessant thinking and passion for knowing cancer as a disease state, not just the ability to achieve a good technical result. The collaboration of interdisciplinary care and potential to offer treatment and improved quality of life to someone who has a conventionally terminal diagnosis is what really drives me. I truly enjoy my job.
What does your collaboration with the cancer care team look like?
There are guidelines that make sure patients receive basic best practice, but reducing cancer care to a simple algorithm that absolves human input and experience will cut patients short of tailored and potentially more favorable outcomes. I work closely with hepatologists, transplant surgeons, surgical oncologists, medical oncologists, and radiation oncologists and we have daily conversations about our cancer patients. It's a relationship that you invest in on a daily basis. Everyone must be aware of their discipline's qualities and liabilities to bring value to a multi-disciplinary team, and frequent communication ensures that we are all up-to-speed. Diversity of opinion is critical to have a consistent, fresh, perspective for patients.
Can you tell me more about your current research?
We have projects looking at both hepatocellular carcinoma and cholangiocarcinoma. A fair amount of our work in the last 5 years has revolved around utilizing radioembolization as an ablative modality. We have also enjoyed working with multiple talented research fellows and residents who played an important role in pushing this research forward. Our retrospective work explored the dosimetry of Y90 and how to optimize response and safety. We are involved in multiple prospective clinical trials evaluating the combination of immunotherapy with ablative intent Y90 for primary liver malignancies of various stages. We are also collaborating on a multi-institution study investigating ways to optimize radiation lobectomy, where the tumor bearing liver is treated with Y90 in order to control tumor and grow the future liver remnant.
Do you feel that being involved in research provides a unique perspective or approach to patients? What are some benefits and challenges that come with that role?
Absolutely. Research of any kind, whether developing a study or just a quality effort, generates new perspectives. Being aware of your outcomes, both good and bad, is necessary for advancement and reduces bias. There are subtleties that you can pick up on when you scrutinize your outcomes with a research-focused lens. This is particularly important with a complex disease like liver cancer where patient selection and early strategy is crucial.
The patients we are seeing today are well-informed by online resources and come to the clinic with great questions. A benefit of being involved in research is the ability to share information with patients on your institutional outcomes as well as offer studies that guide the future of therapy. It is rewarding to look at how your practice has improved from 10 years ago, thanks to research efforts and the courage of our patients. One challenge to research is that it is time consuming, permeates your thoughts, and a grind – not something you can easily shut off. Therefore, it is important to compartmentalize research with boundaries to maintain a healthy lifestyle outside of work.
What characteristics of IR draw people to the specialty and what qualities would you use to describe those who are the most successful?
There's a lot of overlap between those interested in surgery and interventional radiology, but there are certain characteristics that draw people IR. There is a lot of on-the-spot decision-making which requires creativity and a comfort with breaking routine. IR tends to invite people who have the courage to take a difficult ball of clay, and try to shape something beneficial from it – sometimes without a clear path from A to B. IR is also home to individuals who think laterally and disrupt. I believe the ability of an IR to remain happy, confident, and successful in their career is fairly dependent on these personality traits. Furthermore, the field of IR is always under a great deal of flux, and we cannot always predict where it's going. I think the vast majority of individuals in IR are okay with that and look forward to adapting.
What advice would you give to medical students who are interested in IR?
Something I wish someone would have told me when I was a medical student is that you have to like what the entire job entails. Spend a lot of time with multiple interventional radiologists, both academic and in private practice, to get a true sense for their work, not just observing a cool procedure. See what that person's morning to night looks like, the demands on that individual's time, what it's like to manage problems in a practice, their life outside of work; see if you still have a good feeling about it. That feeling has to be strong for it not to run dry as, over time, you only acclimate to the adornments of the specialty and become hyperalgesic to the aspects you don't like. The happiest practitioners I've met are those who had difficulty retiring because they still love IR when that day comes. I also feel that most IRs are grateful to practice this incredible specialty and don't regret their decision, despite an ever changing medical landscape.