Welcome!
This section of our website is dedicated to students interested in interventional radiology and is overseen by our Medical Student Council.
Under the drop-down menu at the top of the screen labeled "Medical Students" you will find an introduction to the specialty as well as great resources on how to get involved, explore IR, and become a competitive applicant for residency.
Stay connected by signing up for our Mailing List and following us on Facebook and Twitter.
Get involved by Joining the Society of Interventional Radiology. Membership is FREE to students. Also consider applying for a position on the Medical Student Council.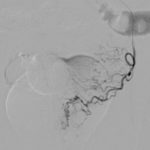 Radiation Exposure of Patients and Interventional Radiologists during Prostatic Artery Embolization: A Prospective Single-Operator Study
Intro
Benign prostatic hyperplasia (BPH) is an exceedingly common condition, estimated to affect greater than 50% of men over the age of 60. Typical patient concerns involve the lower urinary…Read more